---

Website Of Francis Redfern
Professor of Physics, Emeritus
Sound Science Bite: December 28. A New Necklace for Saturn
Well, if you consider 200 million years "new", that is. Many planetary scientists have thought Saturn's rings were as old as the solar system. For one thing, they were thought to have a mass greater than Saturn's moon Mimas, which implies that they had to have formed early in the solar system's history when a lot of mass from the proto-planetary nebula was available.
Results from the Cassini spacecraft mission, reported in a news article in the 22 Dec 2017 journal Science, provide convincing evidence the rings are mere solar system babies. For one thing the mass of the rings looks to be less than half that of Mimas. Also the influx of micrometeorites onto Saturn is much larger than previously thought. These particles darken objects they adhere to, including the particles of the rings. With the large influx of these particles now identified, the rings should be significantly darker than they actually are were they formed at the same time as Saturn. With these new results the age of the rings is estimated to be only a few hundreds of millions of years old.
This leaves us the question of how they managed to form in the first place. Possibly a collision between a Saturnian moon and a comet? I was surprised to see the absence in the news article of mentioning the possibility that a moon in a retrograde orbit spiraled in to Saturn close enough to be torn apart by Saturn's gravity. This seems to be the eventual fate of Neptune's retrograde moon Triton, which, once it gets too close to Neptune, will be torn apart and may form a spectacular set of rings. (A retrograde orbit occurs when a moon orbits opposite the direction in which the planet is rotating. Tidal forces then cause the moon to move closer to the planet on each orbit.) Of course, if this scenario is true, it brings up another question: How is it that Saturn came to have a moon in a retrograde orbit? At any rate, Saturn's rings continue to be a difficult puzzle to solve.
Index of Previous Sound Science Bites
---
Webmaster email: Francis Redfern.
---
Science News from the American Association for the Advancement of Science
---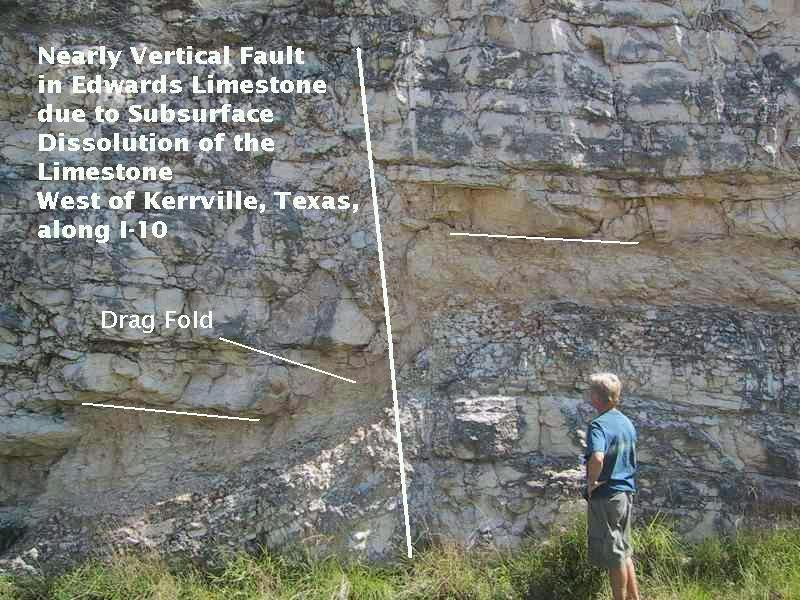 I-10, On Road To Big Bend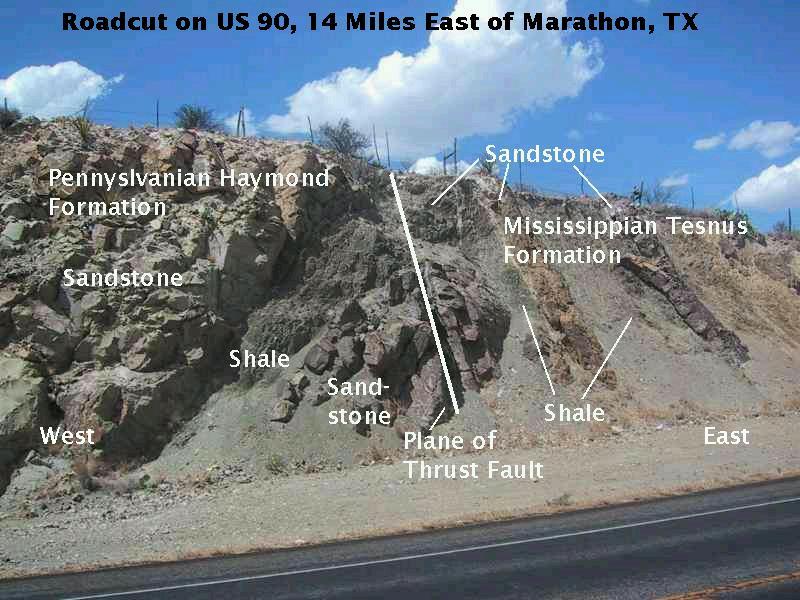 Thrust Fault On Us 90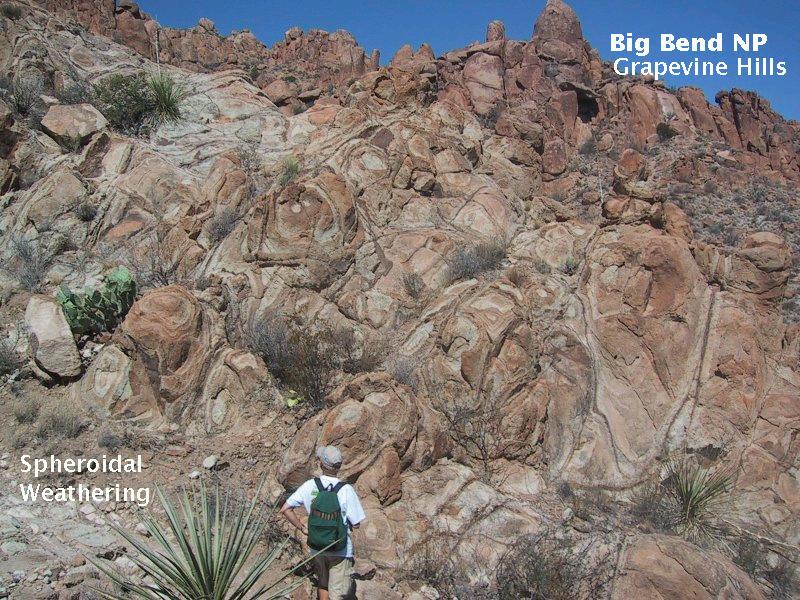 Grapevine Hills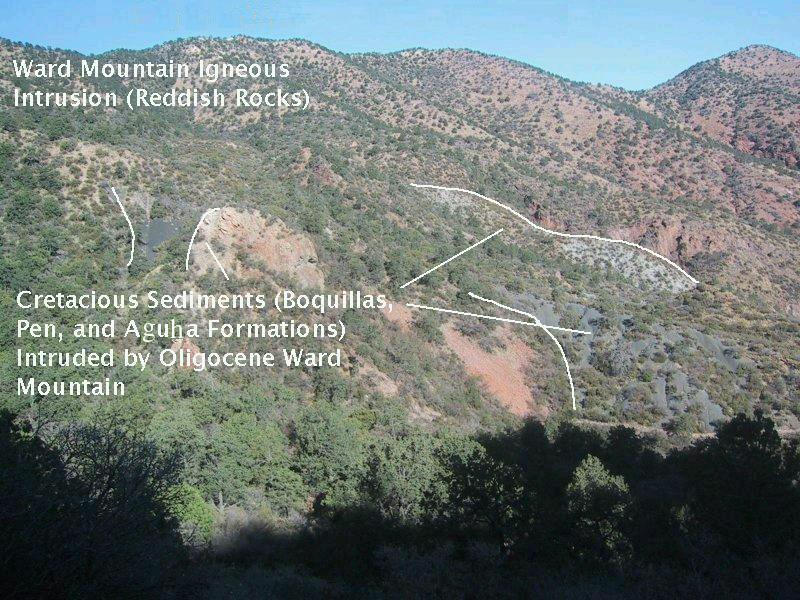 South Rim Trail - Intruded Sediments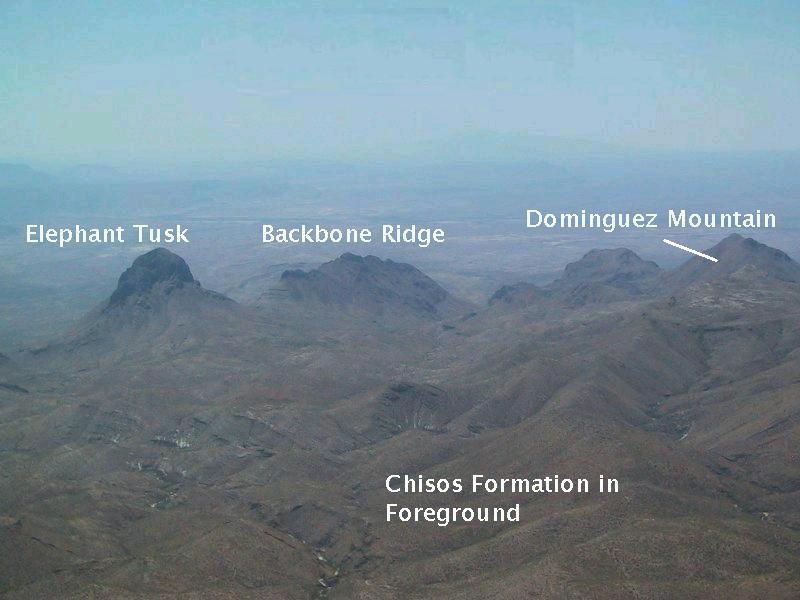 South Rim - Igneous Intrusions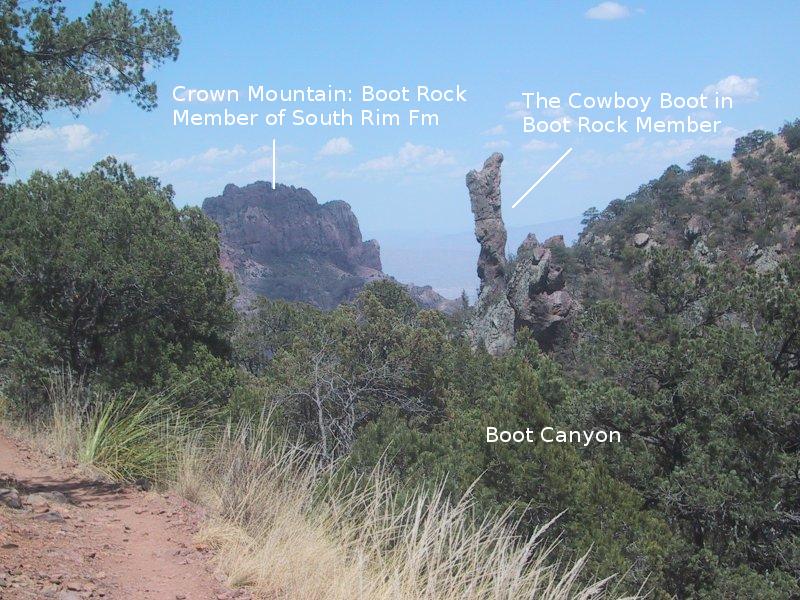 Boot Canyon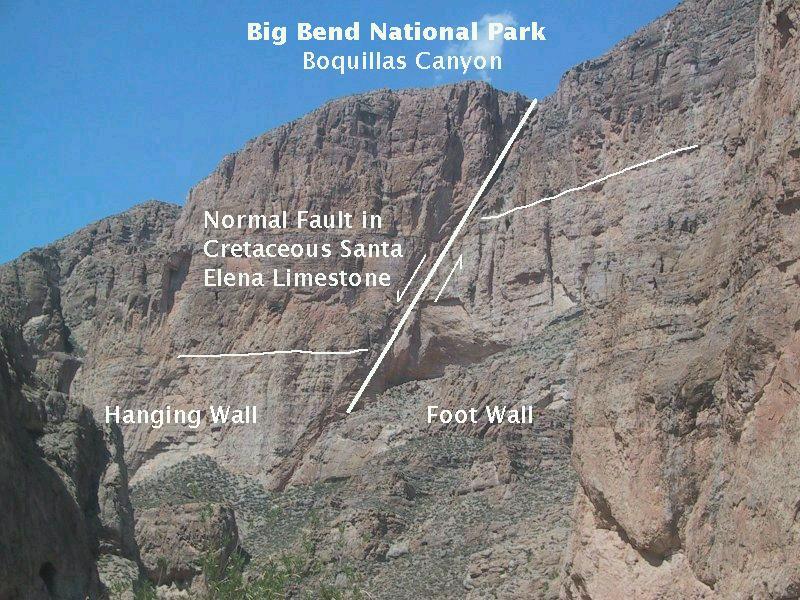 Boquillas Canyon Fault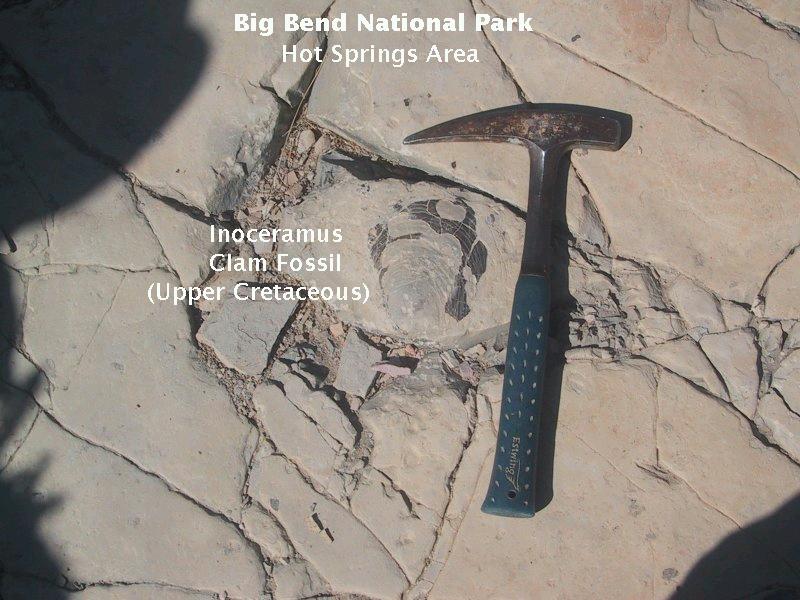 Fossil Near Hot Springs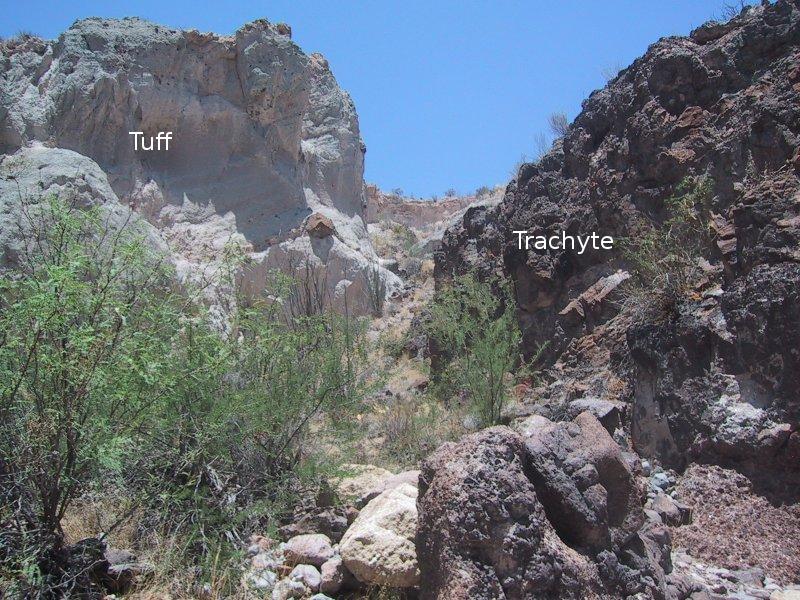 Volcanic Rock In Tuff Canyon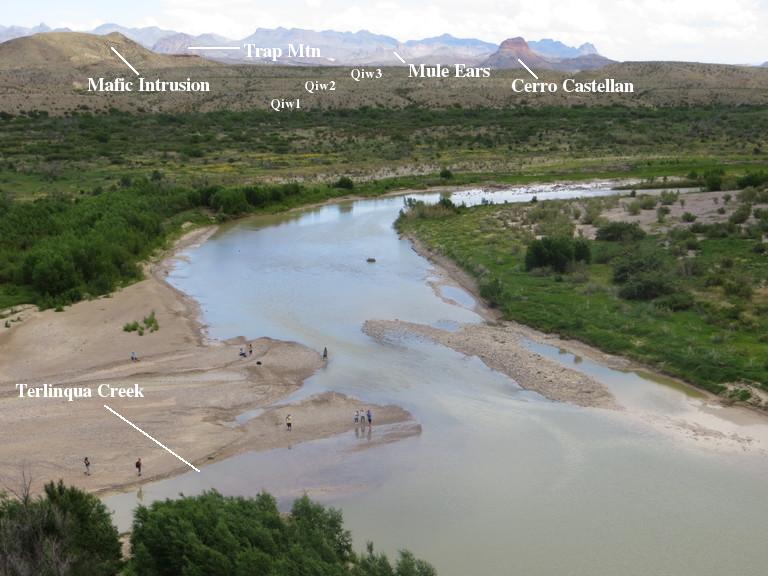 Rio Grande Terraces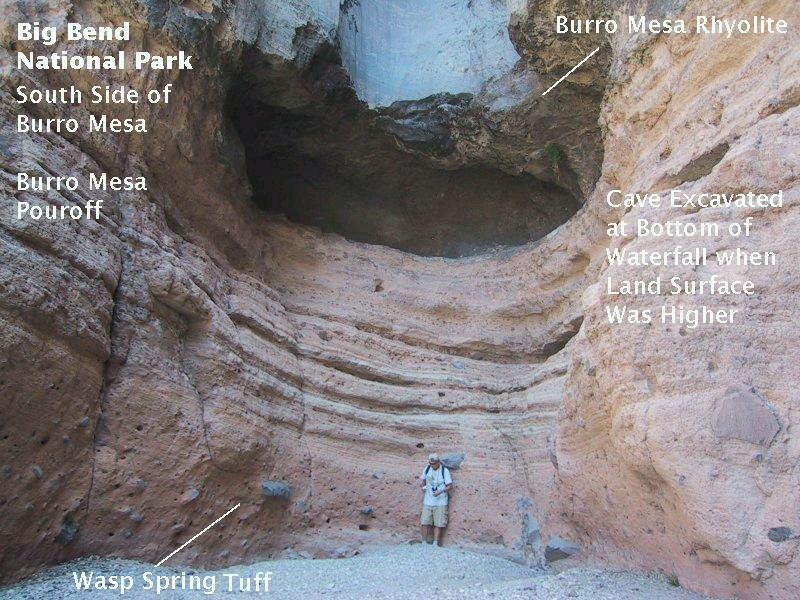 Burro Mesa Pouroff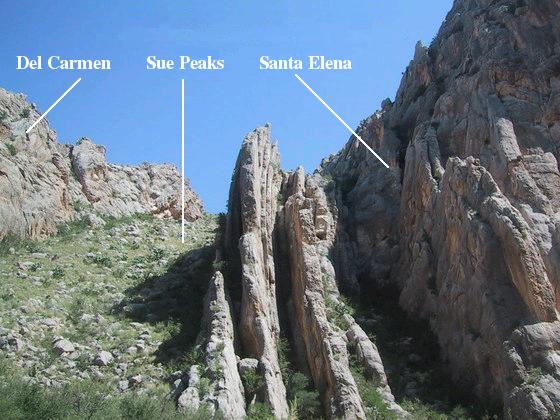 Inside A Thrust Fault At Dog Canyon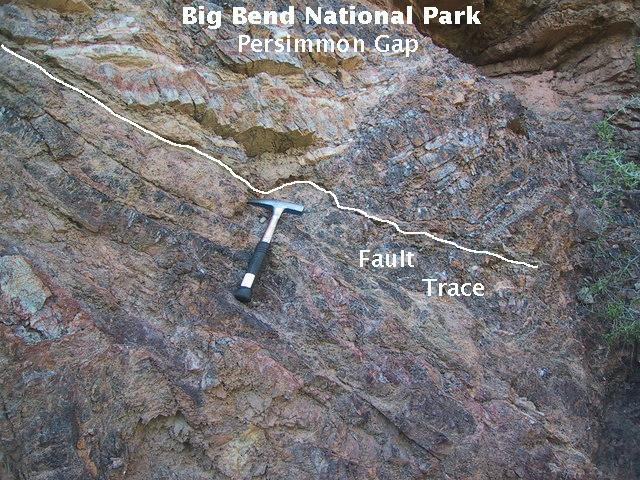 Faulted Fold At Persimmon Gap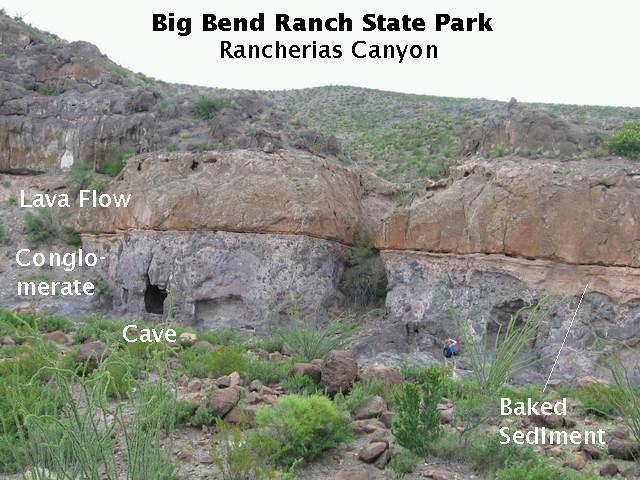 Lava Flow Over Alluvium, Rancherias Canyon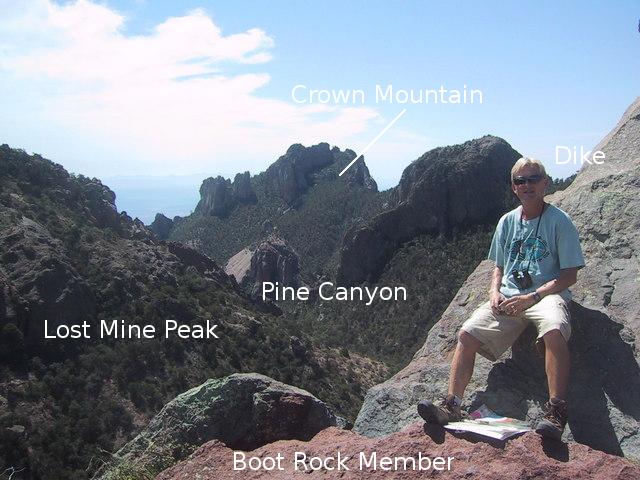 Sitting On A Dike By A Fault Scarp- Lost Mine Trail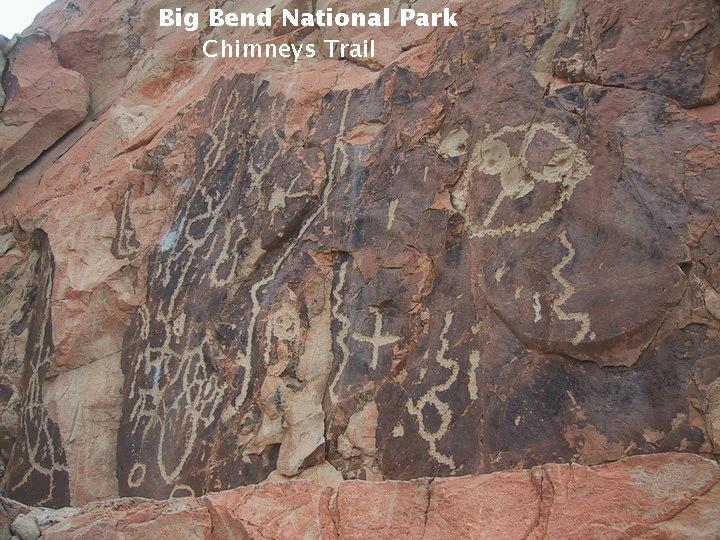 Native American Petroglyphs - Chimneys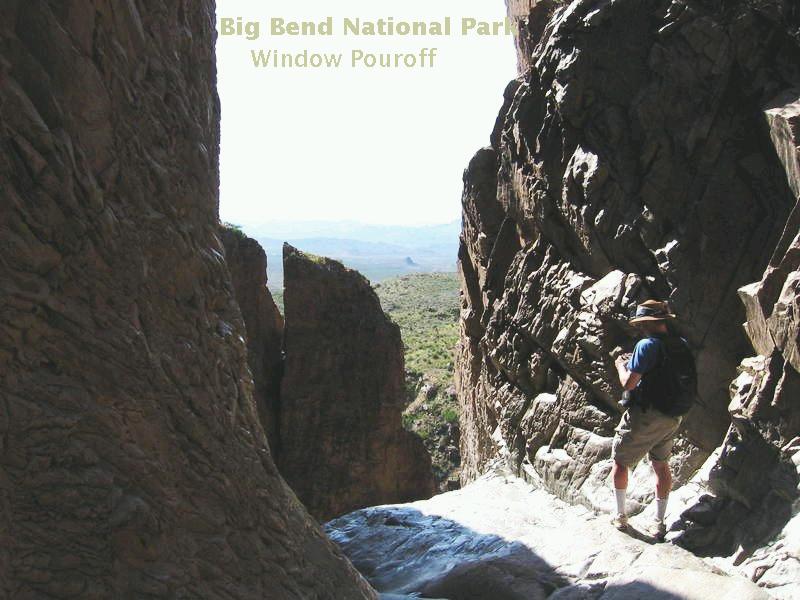 Oak Creek Pouroff - Only Water Outlet From The Basin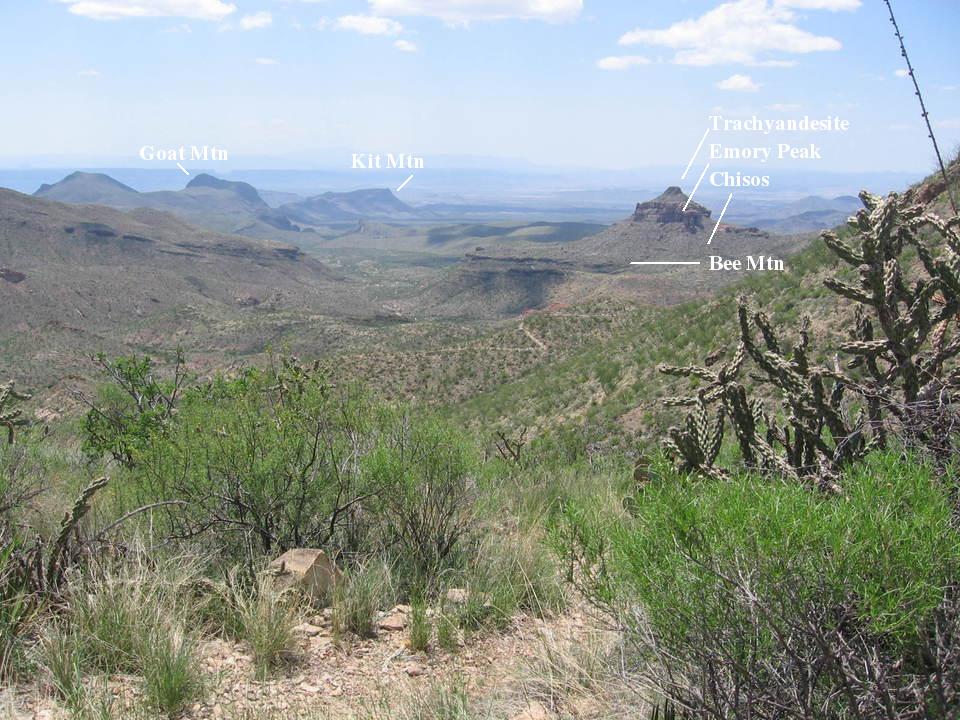 Carousel Mountain - Dodson Trail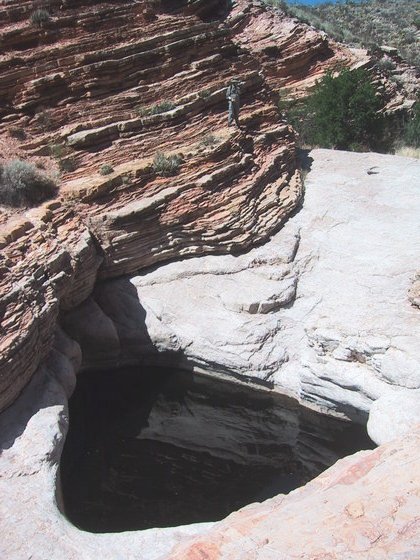 Del Rio Clay On Santa Elena Limestone - Ernst Tinaja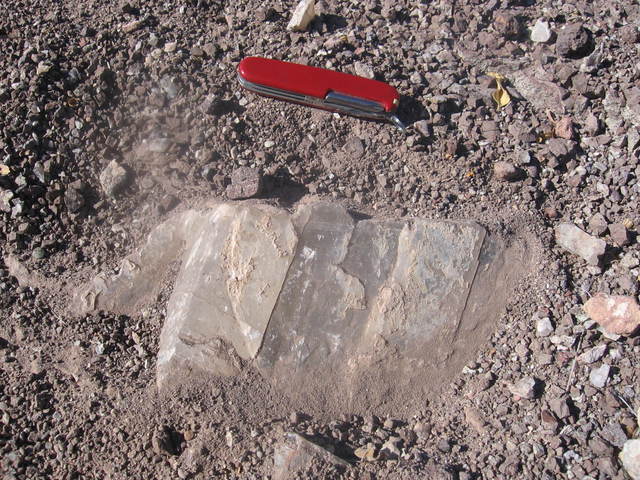 Calcite Crystals - Near Mule Ear Peaks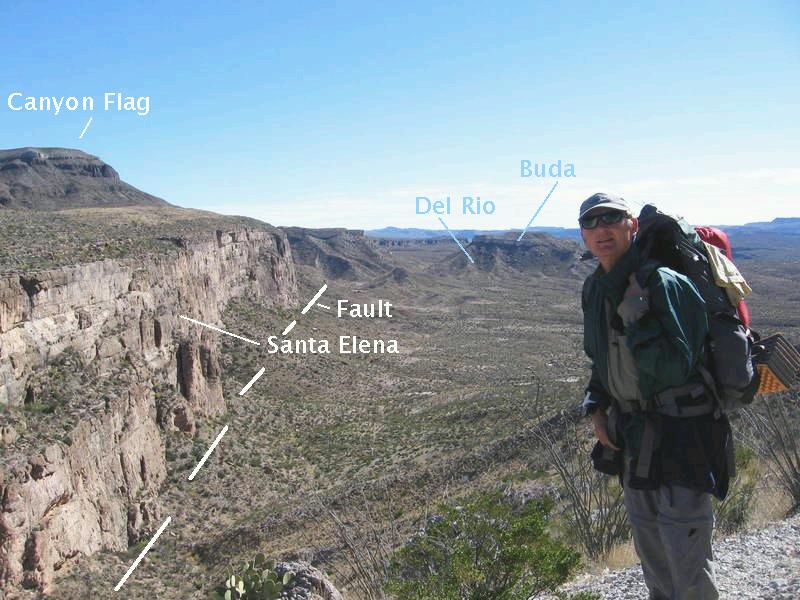 On Mesa De Anguila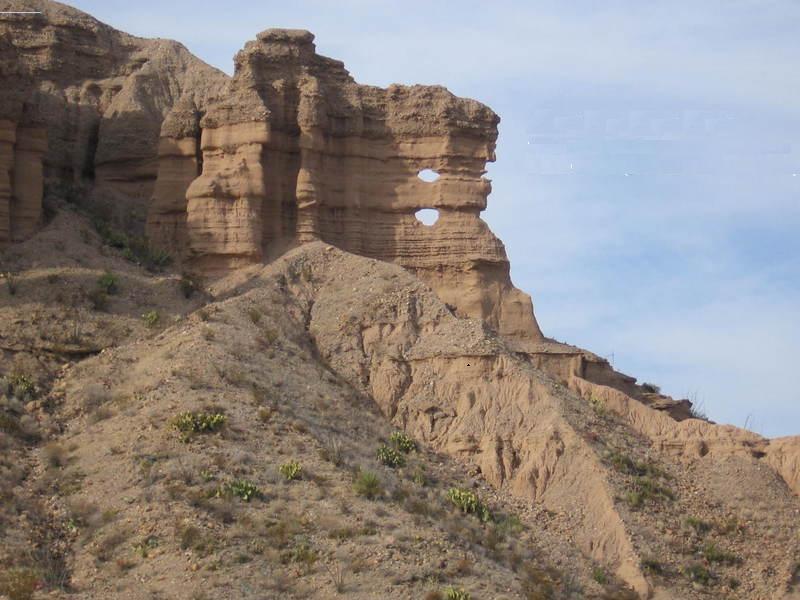 Pliocene-Miocene Contact - Estufa Canyon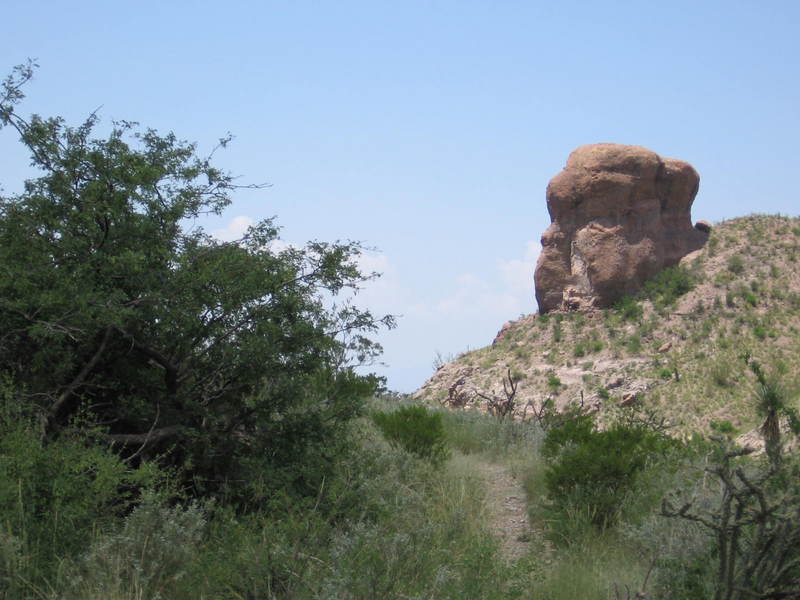 "Hitchcock Rock" - Blue Creek Canyon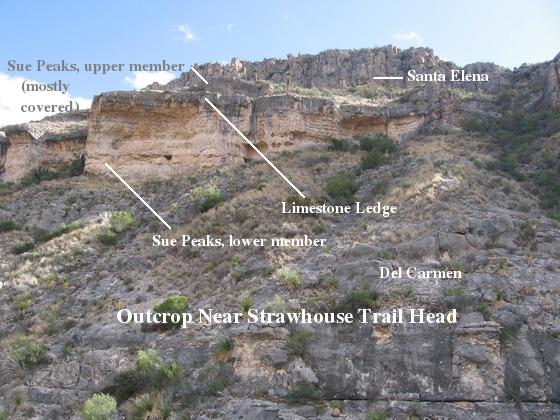 Outcrop - Telephone Canyon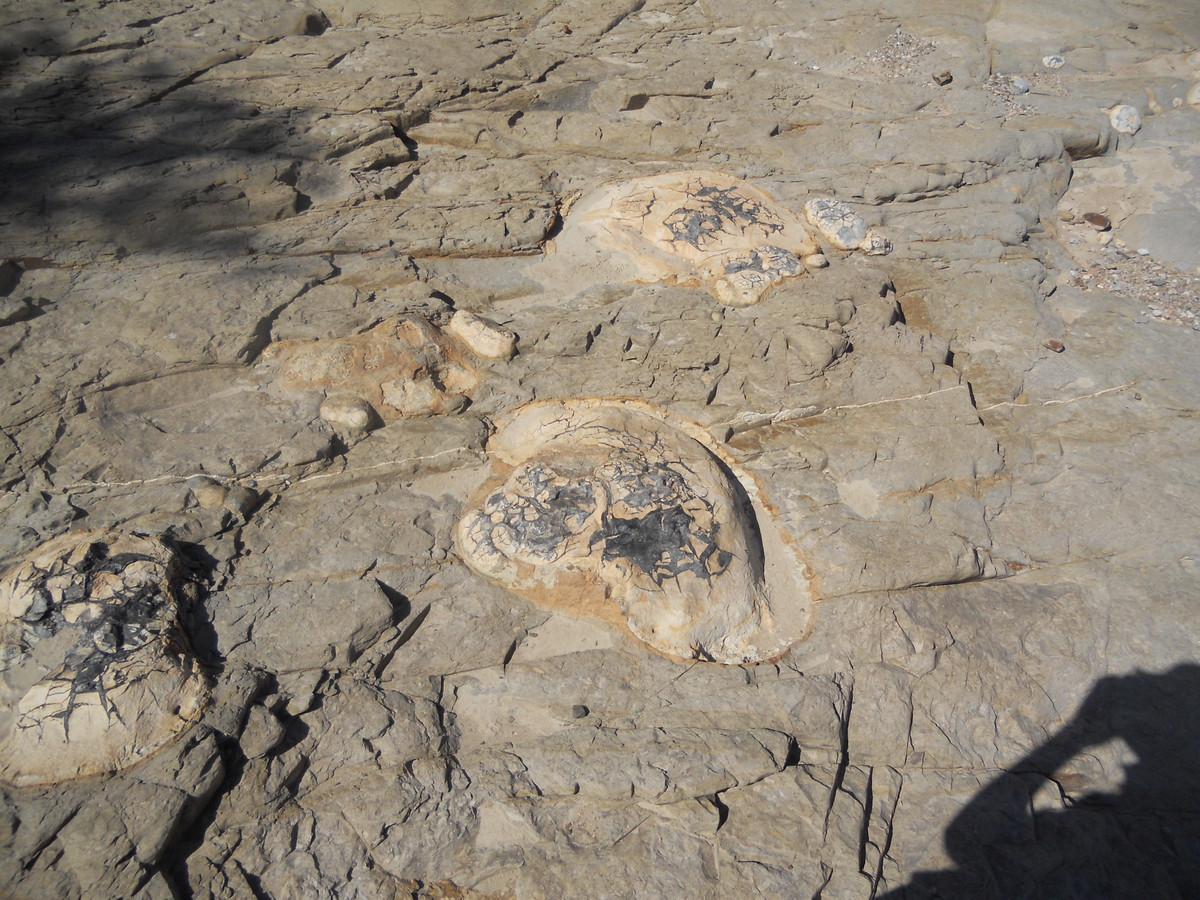 Septarian Concretions - Banta Shut-In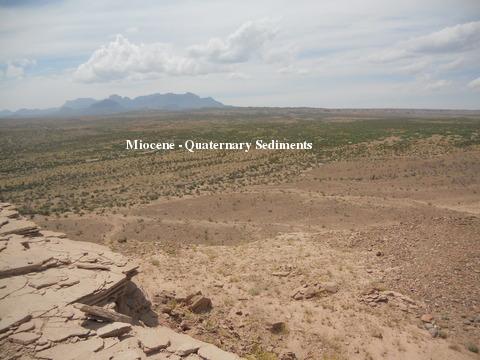 Tornillo Graben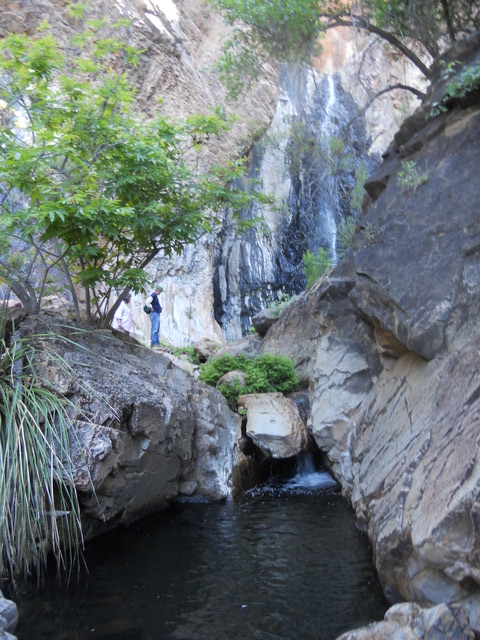 Cattail Falls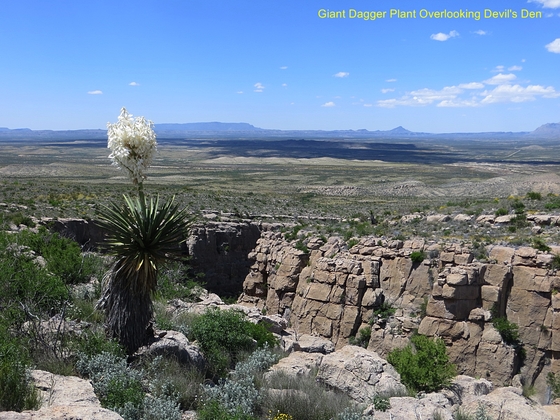 Giant Dagger at Devils Den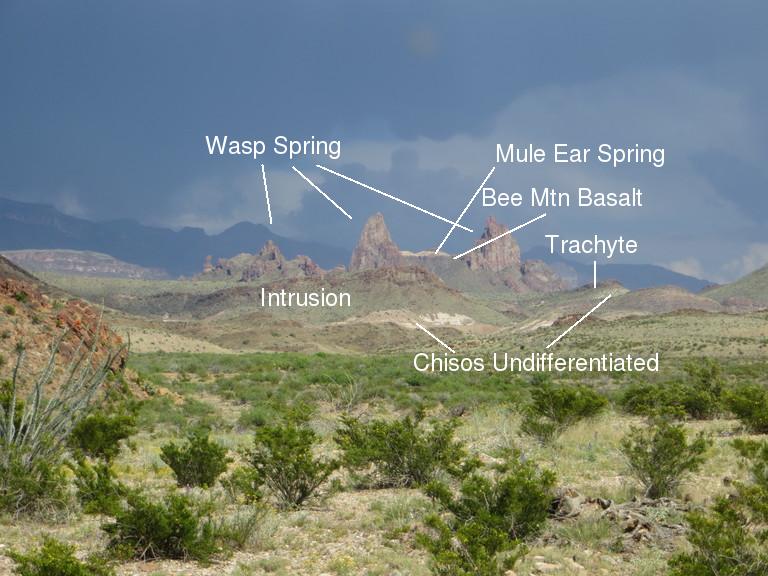 Mule Ear Peaks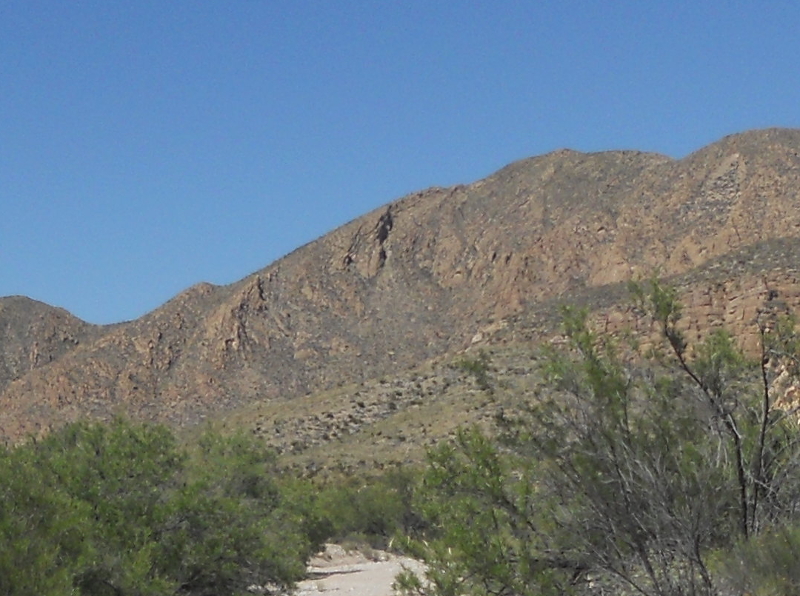 Thrust Fault Drag Folds - Strawhouse Trail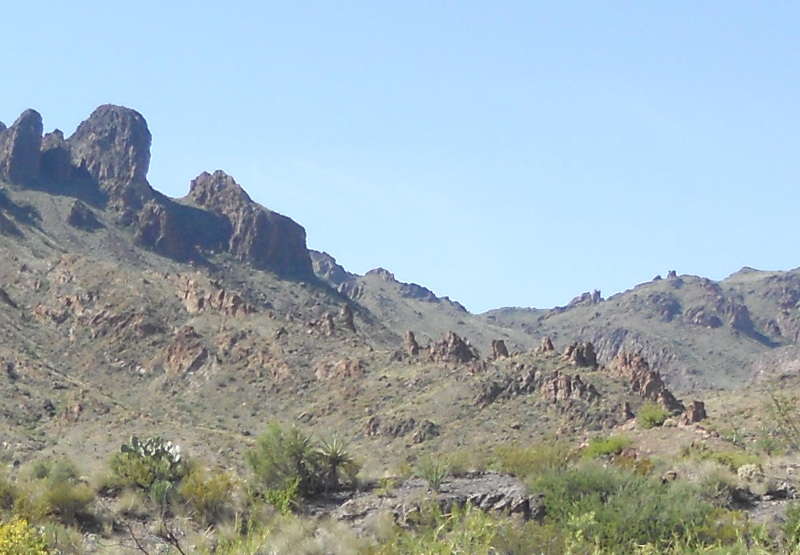 Dike Swarm Radiating from Dominguez Mountain
Virtual Geological Field Trips to Big Bend National Park, © Francis Redfern, 2006-16.

"You can have my rock hammer when you pry it from my cold, dead fingers."

I am in the process of adding new material and revising most if not all of the virtual field trips now that the new USGS geological map has been published.





Physics Journal (Personal Research)

Redfern, F. Eur. Phys. J. D (2017) 71: 325.

Magnetic coils in electric fields contain no hidden momentum.

There is no charge separation on a moving magnetic dipole. The apparent presence of charge is due to the relativity of simultaneity. An electric dipole does not appear on a moving magnetic dipole and a magnetic dipole does not appear on a moving electric dipole. I argue that the magnetization-polarization tensor is not a genuine four-tensor and is not a valid way to find transformed fields. Only the Lorentz transformation of fields directly can give the correct transformed fields.

Redfern, F. Eur. Phys. J. D (2017) 71: 163.

In 1967 Shockley and James addressed the situation of a magnet in an electric field. The magnet is at rest and contains electromagnetic momentum, but there was no obvious mechanical momentum to balance this for momentum conservation. They concluded that some sort of mechanical momentum, which they called "hidden momentum", was contained in the magnet and ascribed this momentum to relativistic effects, a contention that was apparently confirmed by Coleman and an Vleck. Since then, a magnetic dipole in an electric field has been considered to have this new form of momentum, but this view ignores the electromagnetic forces that arise when an electric field is applied to a magnet or a magnet is formed in an electric field. The electromagnetic forces result in the magnet gaining electro- magnetic momentum and an equal and opposite amount of mechanical momentum so that it is moving in its original rest frame. This moving reference frame is erroneously taken to be the rest frame in studies that purport to show hidden momentum. Here I examine the analysis of Shockley and James and of Coleman and Van Vleck and consider a model of a magnetic dipole formed in a uniform electric field. These calculations show no hidden momentum.

Physica Scripta, Volume 91, Number 4.

In 2013 an article published online by the journal Science declared that the paradox proposed by Masud Mansuripur was resolved. This paradox concerns a point charge-Amperian magnetic dipole system as seen in a frame of reference where they are at rest and one in which they are moving. In the latter frame an electric dipole appears on the magnetic dipole. A torque is then exerted upon the electric dipole by the point charge, a torque that is not observed in the at-rest frame. Mansuripur points out this violates the relativity principle and suggests the Lorentz force responsible for the torque be replaced by the Einstein–Laub force. The resolution of the paradox reported by Science, based on numerous papers in the physics literature, preserves the Lorentz force but depends on the concept of hidden momentum. Here I propose a different resolution based on the overlooked fact that the charge-magnetic dipole system contains linear and angular electromagnetic field momentum. The time rate of change of the field angular–momentum in the frame through which the system is moving cancels that due to the charge-electric dipole interaction. From this point of view hidden momentum is not needed in the resolution of the paradox.

I show that the usual harmonic plane-wave equation can be derived from kinematic principles only; that is, requiring the wave to propagate without changing shape in a non-dissipative medium. Not only can the usual second order wave equation be acquired this way, but also an equation that is quadratic and of first order. These equations have a common set of solutions. The second-order equation corresponds to the restoring forces of a physical medium whereas the first-order quadratic equation corresponds to energy in a conservative medium. Properties of electromagnetic waves, including energy conservation (Poynting's theorem) and radiation pressure can be obtained from this kinematic approach.